Skrill benefits:
♦ Security and refund guarantees
♦ VIP return of commission
♦ Possibility of obtaining MasterCard
Skrill payment system overview
The Skrill payment system is the most popular and convenient for making online payments in the gambling business. Having appeared in the early 2000s under the MoneyBookers brand, the company is now one of the leaders in the field of online payment systems.
It's pretty easy to create an account. It is enough to go through the registration procedure, indicating your real data, this is necessary for further use of the system. After activating your account, you will be able to perform transactions within the system.
All transactions with the account are carried out in a convenient web-interface, which allows you to manage the account from any device and from any place where there is Internet.
To use all the possibilities of replenishing and withdrawing money from it, as well as in order to increase the transfer limits, you must go through the verification procedure of a plastic card or bank account. Several plastic cards and bank accounts can be linked to one account.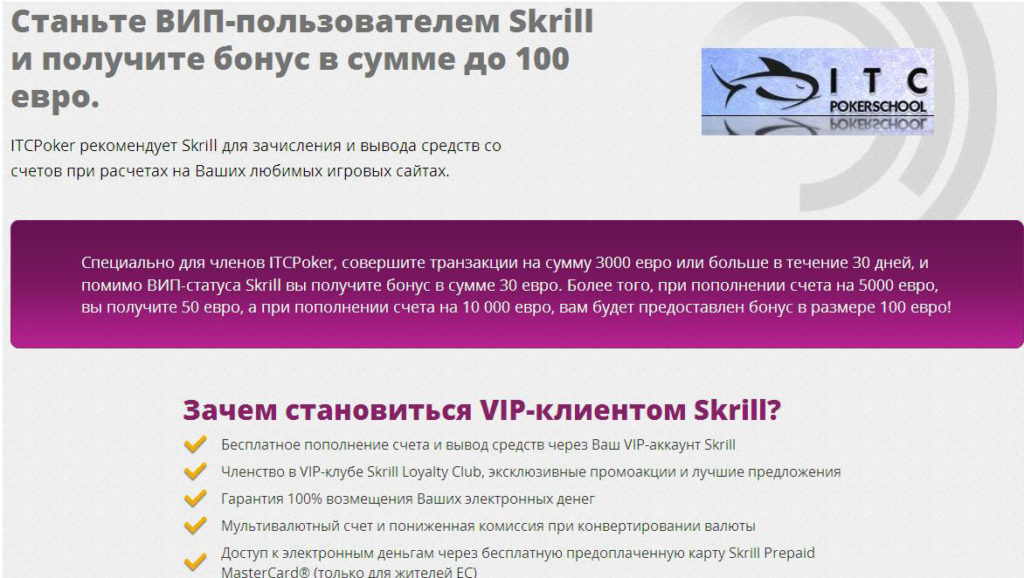 Verification procedure
There are 3 types of verification in total:
Verification of a plastic card - to pass you need to have a plastic card. After entering your card details, it will be charged from 1$ to 3$, and after entering the withdrawal amount, your card will be verified. Allows you to deposit and withdraw funds from Skrill, and also increases the limit on transactions within the system.
Bank account verification - to pass you need to have a bank account. To complete the procedure, you must withdraw funds to a bank account in an amount exceeding 10 euros, in the note of which you will receive a six-digit code (example of note: VRFCODE 1A2B3C). The next time you withdraw funds to a bank account, enter the code and thus the verification will be completed.
Verification of personal data - to pass you need to provide a copy of your passport, as well as attach a receipt for payment of the invoice at the place of residence that you indicated when registering the invoice.
After completing all the verifications, you will increase the transaction limit by more than 10,000 euros.
Deposit and withdrawal of funds
To replenish your Skrill account, you need to complete the verification procedure for your plastic card or bank account, after which you can easily replenish and withdraw money from the payment system account.
At the moment, almost all poker rooms allow you to make deposits and withdrawals via Skrill.
Skrill Prepaid MasterCard
It is possible to order a plastic Skrill Prepaid MasterCard linked to your account in the payment system, which makes it possible to instantly withdraw money from any ATM in the world. Unfortunately, for Ukraine and Russia this service is available only to VIP users of the system.
Cost and maintenance of the card 10 EUR per year
Fixed fee of € 1.80 for ATM withdrawals
Flat fee of 2,49% for currency exchange
Skrill VIP status
It is impossible not to mention the VIP system. If you actively use the system and make transactions worth more than 6,000 euros in 3 months, you will automatically receive a Skrill VIP status.
What does VIP status give in the system?
Free deposit and withdrawal of funds
Guaranteed 100% protection for your online account
VIP support 24 \ 7
Free plastic Skrill Prepaid MasterCard and security key
Multicurrency accounts
Participation in exclusive promotions, as well as the ability to spend bonus points in the VIP store.
Reduced currency conversion fees
And also, by making more than 1,000$ rake per month, we will help you get a Skrill VIP status. Details on the page VIP.
Skrill transfer, deposit and withdrawal fees
Replenishment of an account via a bank card - 1.9% of the replenishment amount
Withdrawal of money to a plastic Visa card - 1.8 euros.
Sending money to another person - 1% of the amount, but not more than 10 EUR
Currency exchange commission - from 2.99 to 4.99%
2,99% for transfers between USD, GBP, EUR, CAD or Polish zloty
3,99% for transfers between US Dollars, Pounds Sterling, Euros, Canadian Dollars, Polish Zloty and any other currency
4,99% for transfers between all other currencies.
Pros and cons of the system
Pros:
Almost all poker rooms allow you to deposit or withdraw funds via Skrill
Excellent VIP System
A plastic Skrill Prepaid MasterCard linked to an account in a payment system.
The security key will prevent attackers from gaining access to the account.
Minuses:
Limits on transactions within the system (increased after verification procedures and obtaining VIP status)
The ability to replenish the account only through a plastic card or bank account