Our professional solutions for secure access to most of the indoor poker venues.
The main advantage of the setup is the absolute guarantee of preserving the local IP with the help of software support and customization of the user's system.
VPN service is:
Protecting your internet connection on untrusted networks. Connecting to networks that you have no control over (such as public Wi-Fi) puts you at risk because your online traffic can easily be intercepted by hackers on the same network. They can access your browsing history and logins with passwords to them. When using a VPN service, your internet traffic is hidden and reliably protected.
Anonymity and protection from personal identification. A VPN connection makes you and all your online activities anonymous. Your ISP will only see a secure connection to one of the VPN's remote servers. It will not be able to decrypt your internet activity and see your internet traffic. Anonymity is vital to protect your identity and online traffic from hackers.
Bypass geographic restrictions on access to sites. Some sites may be blocked for some countries. When using a VPN service, you can connect to one of the servers in the country in which you want to "reside", and you can easily go to a closed site from a country where it is not blocked.
Support for all applications. Unlike a proxy, VPN automatically works with all applications that have access to the Internet. VPN automatically encrypts and protects all applications on your computer, be it browser, skype, torrent, etc.
Bypass censorship and web restrictions. The Internet is not equally free in all countries. A VPN helps you bypass internet censorship and restrictions imposed by your ISP or government.
We recommend Hide My Ass VPN! It has been providing its services since 2005 and is the most popular VPN site (according to Alexa.com), with millions of unique visitors per month.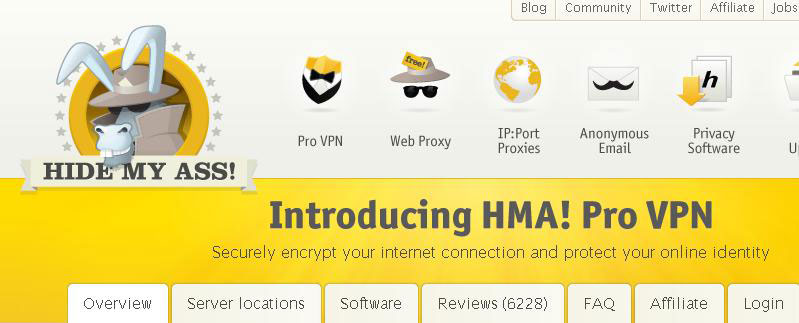 Hide My Ass! VPN service for safe and anonymous Internet browsing
VPN / Virtual Private Network (virtual private network) - consists of a VPN client installed on the user's computer and a secure VPN server through which data is exchanged with the external network.
The server protects, encrypts and modifies data exchanged between the user's computer and websites / web services on the Internet.
Once you connect to a VPN service, all your online activities are encrypted and anonymous. Anyone who tries to break into your internet connection to steal sensitive data (for example, when you are using a public free Wi-Fi network) will not be able to do so because your internet traffic is securely hidden.
The sites visited, the logins and passwords used, online chats, and downloaded files will be out of sight of third parties who may try to control your online activity and obtain important information about you.
With a VPN, not only your internet activity is protected, but also your identity, such as your IP address. Your IP address is essentially a fingerprint - a way to identify you on the Internet. It can be used to determine your location and the provider used. You will not show your documents to every passer-by on the street, so why do this on the Internet?
Top 10 Benefits of Hide My Ass VPN! before others:
Extensive geographic coverage - 446 servers in 61 countries.
Dynamic IP addresses. Over 54,000 unique IP addresses.
Convenient and functional software. Hide My Ass software is supported by Windows and Mac OS. We are currently working on a client for Linux. Hide My Ass VPN works on all devices that support OpenVPN or PPTP, including iPhone / iPad and Android devices.
Three connection protocols to choose from - OpenVPN, L2TP, PPTP.
Unlimited traffic.
No traces on the internet... Only the time of connection and disconnection to the VPN service is recorded. Your Internet activity while using a VPN, for example, which sites you visit or with whom you communicate online, is not tracked or recorded anywhere.
Regular addition of new servers around the world.
Ease of use. You do not need to understand the technical nuances in order to protect your online traffic and identity from unauthorized persons. All you need to do is install the VPN client, enter your username and password, and click Connect!
Fast and responsive support team.
Refunds within 30 days of purchase. If you do not like the service, you can return the money during this time.