Rooms with weak players can be suitable for those who want to make money faster. If you are looking for profit and are willing to sacrifice experience and growth in poker, then you can move to the rooms with fish.
Many users choose poker rooms based on rakeback. Like, you can play a lot and get big rewards due to the loyalty system. But in most of the hands in these rooms, you play with strong opponents. And in rooms with a weaker field, you can earn more without even getting a rake back.
But in order to build a profitable strategy when playing with fish, you first need to find rooms with good playing conditions.
TigerGaming

Almost always, the level of play in the room depends on what nationality players enter the site. It is generally accepted that poker players from Canada and the United States are the weakest. An added plus is that ten dollars for a player from these countries means almost nothing. In contrast to the regions where the average earnings are several times less.
After Black Friday, Canadians and Americans hardly visit Poker Stars and other rooms popular in Europe. But you can find site options that are popular there.
For example, TigerGaming. At peak times, up to 1200 people play on the site. Note that this is not the most convenient period for a CIS player - from 4 to 8 am.
In the room, you can use additional trackers to collect statistics. The client is convenient, works quickly, but is not translated into Russian (which is not surprising).
Unibet
Since 2015, this poker room has started attracting amateur players to its tables. Therefore, today it makes sense to go into the room to raise your bankroll. Plus, in a more convenient peak time for the game: from 11 pm to 2 am - quite playable for users from the CIS.
The number of players at peak is about the same as at TigerGaming. Deals are in progress at limits up to NL800.
The room uses specific software: a lot of animation inserts are used in the design. This attracts inexperienced players who see the game as a way to have fun.
By the way, you can play in the room through the browser version. But you won't be able to collect information through trackers.
RuPoker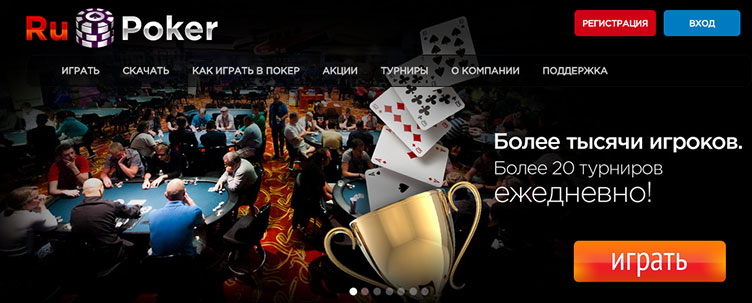 This is a Russian platform that is part of the network PokerDom... The field is rather weak and 4/5 of all players play at limits up to 75/150 rubles. On the site, the peak time is suitable for players from Russia - the evening hours, when everyone returns from work and weekends.
Hold'em and Omaha are mainly played at the tables, and Chinese poker tournaments are also popular.
By the way, despite the weak field, you can get up to 40% rakeback in the room. These two benefits will allow you to maximize your revenue stream.
But poker trackers are not allowed to be used even in the background. Violation of the terms can lead to account blocking.
---
You can try the game on any of the platforms above and compare the poker profit in the room where you played before. You will most likely start making more money from poker. But we recommend not to get carried away with playing with fish. If you stop practicing with strong opponents, it will not give you a chance to break into the "big league".
Rooms with weak players are more suitable for temporary earnings and bankroll restoration if it has been lost.