Actual bonuses Poker house allow each player to earn more for the same investment in online poker. We will tell you about how to receive additional gifts from the poker room, how to profitably replenish a deposit and invite friends for money!
Deposit reward
Traditionally, the administration of the poker room is ready to thank you for your first deposit with a rather generous bonus. Each new user of the room, when replenishing the account for the first time, can receive up to 150% of the deposited amount. The minimum threshold for participation in the promotion is 400 rubles, but there is no point in making more than 20 thousand for the first deposit (the room simply will not pay more than 30 thousand rubles user).

The promotion itself is not credited to the player's account immediately, but after you earn four times more points than the bonus amount.
1 point is given for 1 ruble of rake.
If you take into account the costs that still involve earning rake, you can get pure cashback from 25% on a deposit. Not bad, isn't it? If you generate even more rake, then the net cashback amount can be much higher - everything is in your hands.
Friends PokerDom
This room is one of the few that still maintains an up-to-date and interesting referral program for users. As part of this promotion, each player can invite a friend and, after the latter fulfills certain conditions, receive a real monetary reward.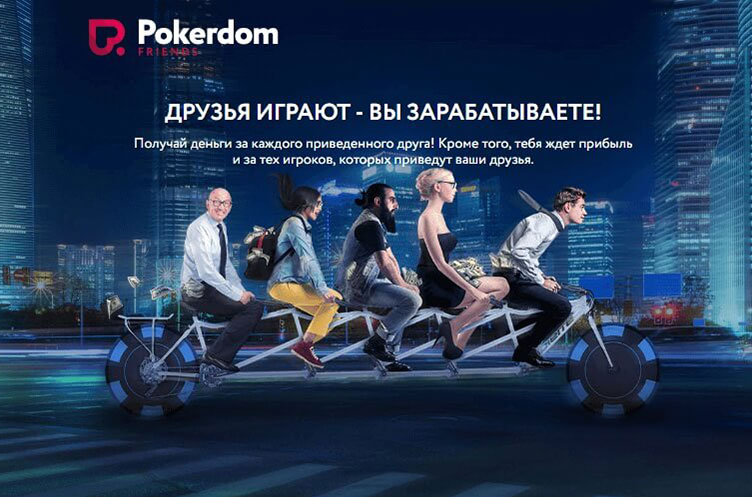 The updated program is called PokerDom Friends and provides a fixed amount of money for each referral. In order for the invited friend to activate your bonus, they must either replenish their online casino account and wager $ 20 on NetGaming slots within 90 days, or replenish their account in the poker room and earn five dollars in rake over the same period.
If the described conditions are met, then you get $ 50 for the first friend, half for the second, for the third and fourth for 15 and 8 dollars, respectively, and for the fifth - four dollars. Payments within the framework of the promotion are made twice a month and are credited to the account in the form of a clean cash. It does not need to be played out or withdrawn in parts.
Loyalty program
The room has a loyalty program for each user on an ongoing basis. If you play for real money regularly and often, you will receive rakeback for your bets and tournament tickets purchased. The program under which you can get a refund of this commission is called "Freebie".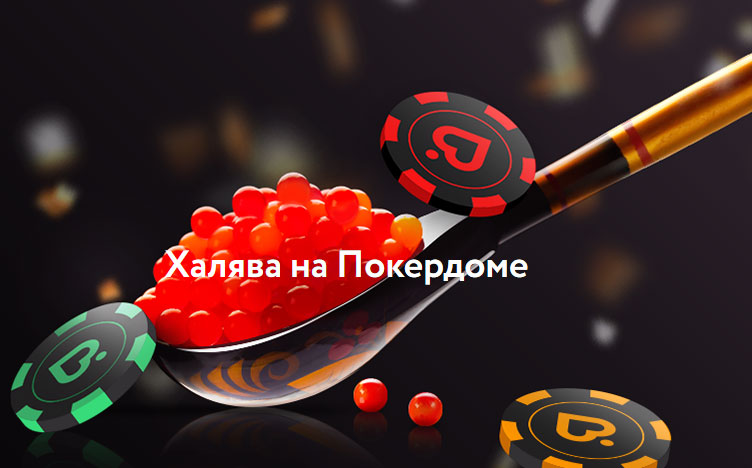 You become a member of this program automatically after you activate your account. There are more than twenty ranks inside the program, and you will be assigned a new room after you have set the minimum number of points required for this.
Please note that the number of points is reset to zero every week, and in order to receive a higher percentage of rake, you need to actively play in the room all the time. Every time you reach a new level of loyalty, you will receive a free tournament ticket for the domestic series. The prize fund in such a free tournament for you reaches one million rubles. Also, players with a high level of loyalty receive additional deposit bonuses every week with a minimum wager for wagering.
conclusions
As you can see, PokerDom in stock there is a fairly large number of bonus offers for all users: both beginners and more experienced players. We are talking exclusively about those that regularly operate in the poker room and are available throughout 2019.
You can study the rest of the periodic PokerDom bonuses on the official website of the poker room and in poker applications.
How to increase your bankroll with a PokerDom promo